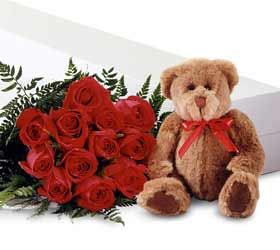 11 Medium Stem Roses
with Greens and Bear
ID gift basket: 3-09


Price: US$60
Datails: Our growers have taken great pride in demanding the best for you. These dozen freshly cut medium stem roses are accented with greens, and arrive with this adorable seated bear. Roses available in red, yellow, pink, peach, and white.
Attachments: We can add flowers... or even digital camera, DVD player ... to your order. Please, send us an inquiry via e-mail to deliver requested product(s) with your order. Our administrator will contact you shortly with payment details for your order processing.