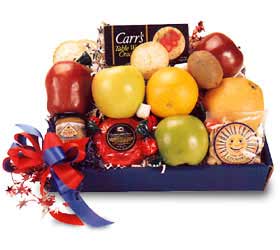 Fruit and cheese gift box
ID gift: 3-05


Price: US$40
Datails: Send the gift with this delightful assortment of juicy, fresh fruit, cheese, crackers and herb almonds. Guaranteed to brighten their day.
Attachments: We can add flowers... or even digital camera, DVD player ... to your order. Please, send us an inquiry via e-mail to deliver requested product(s) with your order. Our administrator will contact you shortly with payment details for your order processing.