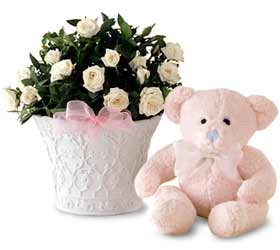 11 roses with pink baby bear
ID gift: 3-04


Price: US$80
Datails: Plush pink bear arrives with white mini roses. Baby bear is approved for all ages. White matte finish porcelain planter with lace motif. To ensure the best quality, the flowers color may vary.
Attachments: We can add flowers... or even digital camera, DVD player ... to your order. Please, send us an inquiry via e-mail to deliver requested product(s) with your order. Our administrator will contact you shortly with payment details for your order processing.