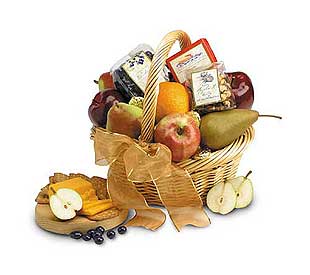 Fruitful Affair
ID gift basket: 3-20


Price: US$85
Datails: The Fruitful Affair has something for everyone. We start with our hand selected, world renowned Royal Comice Pears, crisp Ruby Red Apples, and juicy Navel Oranges. Then we add rich Garlic Cheddar Cheese, flaky Honey Wheat Crackers, and fresh Roasted Mixed Nuts. Top it off with our delectable Chocolate Covered Blueberries and a generous sprinkling of gold-foiled Truffle Mints and you've got the perfect gift for all occasions!
Attachments: We can add flowers... or even digital camera, DVD player ... to your order. Please, send us an inquiry via e-mail to deliver requested product(s) with your order. Our administrator will contact you shortly with payment details for your order processing.