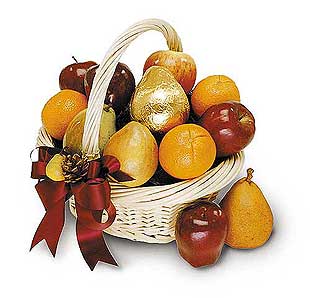 Simply Fruit
ID gift basket: 3-18


Price: US$65
Datails: Simply the perfect gift for both the fruit lover and the health-conscious. We start with our hand selected, world renowned Royal Comice Pears, crisp Ruby Red Apples, and juicy Navel Oranges. This naturally fresh and wholesome fare arrives in a handsome wicker basket complete with a hand tied bow. Everyone will love the fruit and treasure the basket for years to come.
Attachments: We can add flowers... or even digital camera, DVD player ... to your order. Please, send us an inquiry via e-mail to deliver requested product(s) with your order. Our administrator will contact you shortly with payment details for your order processing.