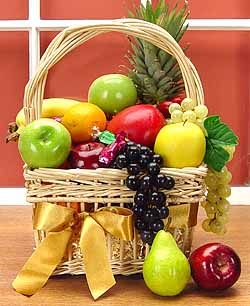 Back to Nature
ID gift basket: 3-14


Price: US$60
Datails: Filled to the brim with domestic and exotic fruits, our large, natural woven basket contains an assortment of the freshest seasonal and regional fruits. Fruit choices may include mangos, pears, apples, grapes, bananas, kiwi, oranges, and pineapple.
Attachments: We can add flowers... or even digital camera, DVD player ... to your order. Please, send us an inquiry via e-mail to deliver requested product(s) with your order. Our administrator will contact you shortly with payment details for your order processing.